By: Amanda Barrell, Graphic Design and PR Assistant, CU Boulder Career Services
As a young job seeker, it can be intimidating and frustrating to apply for positions in today's economy. From customizing and sending out multiple resumes, attending job fairs, and prepping for interviews, all of those details can add up to be quite overwhelming. Perhaps you're frustrated by not getting any callbacks for an interview.
While there are many details to focus on and stay up-to-date with when applying to jobs, one aspect that may help improve your chances of getting that interview with a company is your voicemail message.
Imagine right now that a recruiter from your dream job has seen your resume and loves what they see. They dial the number listed on your resume, it goes to voicemail, and the recruiter hears this:
"Hey y'all, you know what to do!" BEEP!
Or…
"You've reached Bob, I'm not a slob, I want a job, don't be a snob; leave a message!" BEEP!
Or maybe you've just left your caller with an entertaining, albeit unnecessary, snippet of your favorite heavy metal/country/hip-hop/pop song before… BEEP!
Despite how amusing or clever you're trying to be, if you've used anything like these messages above, chances are your future employer is not impressed.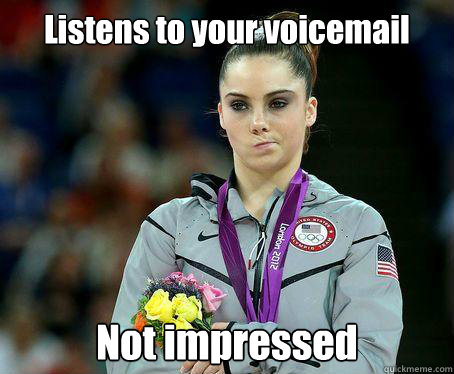 Your voicemail should serve two purposes.
To help the caller confirm that they've contacted the correct person/number.

To leave a short message regarding their call.
Instead, make sure you follow these guidelines when recording your voicemail message.
Keep it simple, short and precise.

Decide on three sentences you'll say during the recording and practice these sentences beforehand.

Pay attention to how your voice sounds, your tone and how fast you're speaking.

When you listen to it, can you understand what you're saying?

If you mess up, don't worry.

Re-record it until it sounds right.
Here's just one variation of a more professional voicemail message:
"Hi, you've reached Jessie at 555-555-5555. I'm sorry I missed your call, but leave me a message and I'll get back to you as soon as I can. Thank you." BEEP!
Whether you're a college sophomore looking for that first summer internship, a new graduate trying to break into the working industry or a young professional looking for a new career opportunity, it's important that your future employers see you as mature and professional, even in your phone conversation and voicemail.